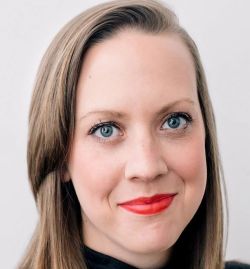 Join NSO on Saturday 5th October for the first concert of the 19/20 season, another in our hugely popular classical bites series. The programme is a dazzling selection of Spanish, Mexican and Brazilian music with the opportunity to stay after for tasty Spanish themed meal. Check out the Next Concert page for full details. The music starts at 6:00pm. Tickets: Unreserved. Concert only: £13, Concessions £11 and £5 for under 18s. Concert plus meal: £27, Concessions £25 and £19 for under 18s. Concert will finish at approx. 7:05pm. Concert plus meal tickets must be booked by Wednesday 2nd October 2019. Buy tickets online. Alternatively email tickets@nottinghamsymphony.org.uk or phone 07733 312322. Tickets will also be available on the door. (Pictured is Rosemary Braddy, soprano soloist in Villa-Lobos' Bachianas Brasileiras No.5.)
An enthusiastic audience of over 300 joined NSO on Saturday 6th July in St Mary's Church, Nottingham for the last concert of the 2018/19 season. Book-ending the ever popular Mendelssohn Violin Concerto, played by rising star Braimah Kanneh-Mason, were the Weber Overture der Freischütz and Bruckner's mighty Symphony No 4, the Romantic. Braimah's dazzling performance drew much applause. A fittingly triumphant close to an exciting season.
Calling violas & double basses! We want to hear from you with a view to joining us! Grade 8 standard.
---
Mailing List! Why not keep up-to-date with future NSO programmes by joining our mailing list. Just email your contact details to list@nottinghamsymphony.org.uk