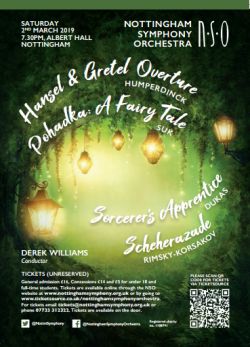 Why not join Nottingham Symphony Orchestra on Saturday 2nd March for an evening of classics with a fairy-tale twist. Central to the programme is Rimsky-Korsakov's dazzling and evocative symphonic suite Scheherazade, based on One Thousand and One Nights, a collection of Middle Eastern folk stories. Alongside this colourful work are the ever popular Hansel & Gretel Overture by Humperdink, Dukas' Sorcerer's Apprentice, and the lesser known but beautiful Pohádka (A Fairy-Tale) by Suk. Tickets (£16, £14 concessions and £5 for 18 and under and full time students) are available online and on the door. (For ticket reservations call 07733312322 or email tickets@nottinghamsymphony.org.uk.) The concert takes place in Nottingham's Albert Hall and the music starts at 7:30pm. (To read some notes on the programme click here.)
Concert Triumph!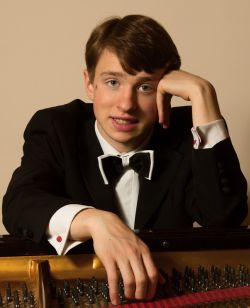 An enthusiastic 300 strong audience joined Nottingham Symphony Orchestra on Saturday 17th November in the Albert Hall, Nottingham for a concert featuring Shostakovich's mighty 5th Symphony and the ever popular Tchaikovsky 1st Piano Concerto. Nineteen year old British pianist and former BBC Young Musician category finalist Julian Trevelyan (pictured) gave a passionate performance of the Tchaikovsky that drew wild applause. Opening the programme was Khatchaturian's exuberantly tuneful Masquerade Suite. A super night.
Calling violas & double basses! We want to hear from you with a view to joining us! Grade 8 standard.
---
Mailing List! Why not keep up-to-date with future NSO programmes by joining our mailing list. Just email your contact details to list@nottinghamsymphony.org.uk