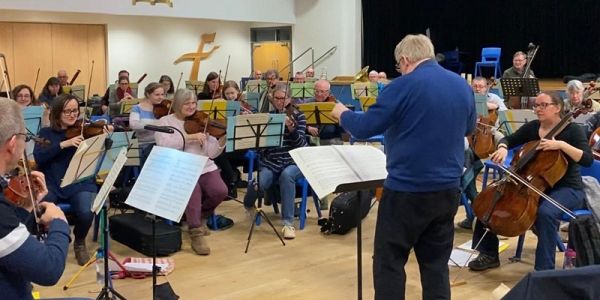 NSO invites you to an Open Rehearsal featuring invited soloist Anthony Thompson (trumpet/flugelhorn)
Programme
Nicklin: Concertino for Trumpet & Flugelhorn (Soloist - Andrew Thompson)
Borodin: Symphony No. 2
NSO invites you to attend an Open Rehearsal rehearsal on
Monday May 16th from 8.30 pm
at the Beckett School, West Bridgford. We will perform the Andrew Nicklin
Concertino for Trumpet
, written for and performed by
Anthony Thompson
, principal trumpet with Sinfonia ViVa, and some movements from the
Borodin 2nd Symphony
. There are only 50 tickets available, so
book now!
This is a
free event
, but we hope that you will consider making a donation to our
Fundraising appeal
for the Derek Williams 40th Anniversary Concert being held in May next year.
Choral link-up Bingham and District Choral Society begin celebrating their Golden Jubilee, 50 glorious years of singing, with a performance of Handel's Messiah, jointly with Newark Choral Society, on Saturday 30th April in Newark Parish Church. NSO will be accompanying them on Saturday 26th November for a "last night of the proms" extravaganza, but if you can't wait, why not pop along to Newark Parish Church later this month. Further details on their web site.
Concert Report An enthusiastic audience of over three hundred and fifty joined NSO on the evening of Saturday 12th March in Nottingham's Albert Hall for a programme of American classics. Central to the evening were three major works, two by Gershwin, his Symphonic Picture from Porgy and Bess and the Piano Concerto in F with soloist Simon Callaghan. Simon's performance, full of lyricism and driving rhythm, drew sustained applause. The third work was Bernstein's Symphonic Dances from West Side Story... a particular must for anyone who saw the recent award winning remake of the film version, directed by Steven Spielberg. The concert started with Barber's overture The School for Scandal and Gershwin's charming, ever-popular promenade, Walking the Dog. A wonderful evening.
Season Finale NSO now turns its attention to what promises to be a fantastic season finale, on Saturday 9th July in St Mary's Church, Nottingham. The evening includes a feast of British classics as well as a world premier. The first half features Walton's electrifying Viola Concerto, with soloist Carmen Flores, Holst's Ballet Music from The Perfect Fool, and the premier of Sarah Brialey's Carrick-a-Rede, inspired by the breathtaking scenery of coastal Northern Ireland. The second half features a single work, Elgar's mighty First Symphony, a piece that received over 100 performances in the year of its first performance. A concert not to be missed. For further details, including ticket information, see the Next Concert page.
Calling violas & double basses! We want to hear from you with a view to joining us! Grade 8 standard.
---
Mailing List! Why not keep up-to-date with future NSO programmes by joining our mailing list. Just email your contact details to list@nottinghamsymphony.org.uk