Next Concert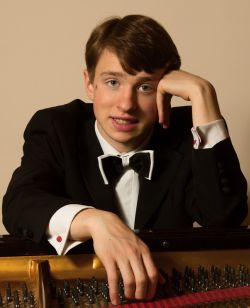 Why not join Nottingham Symphony Orchestra on Saturday 17th November in the Albert Hall, Nottingham for a concert featuring Shostakovich's mighty 5th Symphony and the ever popular Tchaikovsky 1st Piano Concerto. The Orchestra welcomes young British pianist and former BBC Young Musician category finalist Julian Trevelyan (pictured) as soloist in the Tchaikovsky. The concert, the first of NSO's 18/19 season, starts at 7:30pm with Khatchaturian's exuberantly tuneful Masquerade Suite. Tickets: £16, £14 concessions and £5 for 18 and under and full time students. Buy online. To learn more about the music on the programme click here.
Triumphant end to 17/18 Season An audience of over two hundred joined NSO on Saturday 7th July in St Mary's Church, Nottingham for a concert that included two popular works from the classical repertoire and an exciting new concerto from Nottingham composer David Machell. Kicking off the concert was the Mastersingers Overture by Wagner followed by the world premier of Machell's Horn Concerto in a bravura performance by our principal horn Robert Parker. The second half of the concert was filled with a piece of music that Tchaikovsky described as "my best work". His Symphony No.6, the Pathétique.
Calling violas & double basses! We want to hear from you with a view to joining us! Grade 8 standard.
---
Mailing List! Why not keep up-to-date with future NSO programmes by joining our mailing list. Just email your contact details to list@nottinghamsymphony.org.uk