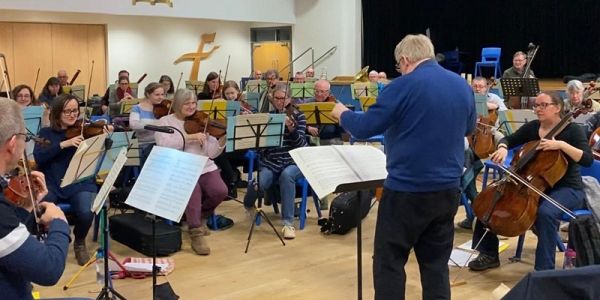 Season Finale An enthusiastic audience of over two hundred joined NSO for the Orchestra's fantastic season finale, on Saturday 9th July in St Mary's Church, Nottingham. The concert opened with Holst's popular Ballet Music from The Perfect Fool, followed by the world premier of Carrick-a-Rede, composed by NSO member Sarah Brialey and inspired by the breathtaking scenery of coastal Northern Ireland. To finish the first half the audience were treated to a ravishing performance of the Walton Viola concerto, played by in-demand virtuoso Carmen Flores. The second half featured a single work, Elgar's mighty First Symphony, a piece that received over 100 performances in the year of its premier. A super concert and a fitting end to the 21/22 season.
Looking ahead... The Orchestra now starts its Summer break. Reheasals begin again in September for the opening concert of the 22/23 season, an evening of European classics on Saturday 5th November, again in St Mary's Church, Nottingham. For full details and ticket information see the Next Concert page
Calling violas & double basses! We want to hear from you with a view to joining us! Grade 8 standard.
---
Mailing List!

Why not keep up-to-date with future NSO programmes by joining our mailing list. Just scan the QR code (right), or go to http://eepurl.com/cjKqaH, or email your contact details to list@nottinghamsymphony.org.uk