Next Concert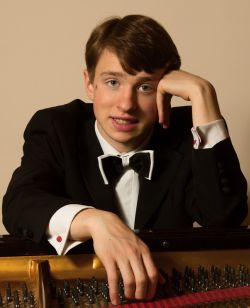 Why not join Nottingham Symphony Orchestra on Saturday 17th November in the Albert Hall, Nottingham for a concert featuring Shostakovich's mighty 5th Symphony and the ever popular Tchaikovsky 1st Piano Concerto. The Orchestra welcomes young British pianist and former BBC Young Musician category finalist Julian Trevelyan (pictured) as soloist in the Tchaikovsky. The concert, the first of NSO's 18/19 season, starts at 7:30pm with Khatchaturian's exuberantly tuneful Masquerade Suite. Tickets: £16, £14 concessions and £5 for 18 and under and full time students. Buy online. To learn more about the music on the programme click here.
World Premier! It's not very often an amateur orchestra gets to perform a brand new work, but that's exactly what happened at NSO's final concert of the 17/18 season. In St Mary's Church, Nottingham on Saturday 7th July, NSO had the huge pleasure of giving the world premier of a new horn concerto by Nottingham composer David Machell. The soloist was the Orchestra's principle horn, Robert Parker. His bravura performance brought cheers, much applause and many postive comments from the audience of over two hundred. David and Robert have written an article on the piece and its birth that has appeared in the British Horn Society (BHS) magazine. Click here to read (by kind permission of the BHS).
Calling violas & double basses! We want to hear from you with a view to joining us! Grade 8 standard.
---
Mailing List! Why not keep up-to-date with future NSO programmes by joining our mailing list. Just email your contact details to list@nottinghamsymphony.org.uk