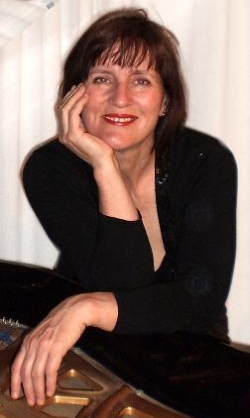 Beate Toyka - Piano
Beate Toyka was born in Germany, to a family in which music and internationalism were a way of life. Trained in Cologne Conservatoire she went on to postgraduate studies at the Royal Academy of Music with Hamish Milne. Whilst there she won the Leslie England prize for interpretation and was soon accepted by the 'Avanti' concert agency for outstanding young musicians. With Cambridge as her next base she traveled to destinations in Western and Eastern Europe, both as soloist and in chamber music ensembles. She taught also for Cambridge University and Anglia Ruskin University.
Beate lived for seven years in Botswana in Southern Africa. From there she played concerts in most surrounding countries: Zambia, Malawi, South Africa and Zimbabwe, where she was many times soloist with the Bulawayo and Harare Philharmonic Orchestras. Whilst keeping true to her classical roots and promoting Western music for Botswana Radio and on the concert platform she also responded to the influence of other sounds around her. She joined forces with marimba players, local dancers and choirs and arranged Tswana folk songs for piano. She co-wrote and produced two children's operas, involving children from many countries acting and playing live on stage.
Now living in Derbyshire, Beate has been in demand as a performer, accompanist, teacher and adjudicator. She is visiting lecturer for Trinity College of Music and is active raising the profile of piano teacher training in this country through EPTA, the European Piano Teachers Association. She has formed the 'Derby Piano Quartet', an ensemble with four pianists on two pianos. The Quartet's educational and concert work takes them all over the country as well as to Germany, often engaging with young players in workshops in order to promote multi-piano playing. As chamber musician Beate performs with the Mercian Piano Trio.
Beate has several times performed the complete cycle of J.S.Bach's 48 Preludes and Fugues. In the Chopin year of 2010, with German pianist Thomas Solzbacher, she played concerts with the complete cycle of Chopin's Etudes and his four Ballades, both here and abroad. Her repertoire includes concertos by Bach, Mozart, Beethoven, Brahms, Grieg and Tchaikovsky and she has performed these frequently.